About

Van Bortel
Van Bortel Aircraft, Inc. is The World's Largest Cessna Dealer!
We only sell the very best Cessna aircraft and deliver them to our customers the way we would want them delivered. Every Cessna we sell comes with our exclusive 100% money-back guarantee and our Purchase Protection Plan. At Van Bortel, Your Satisfaction is our Reputation®!
Our culture is simple: we have great admiration for the general aviation community and its people. We do business the old-fashioned way: with integrity, respect, and trust. We care about people, our customers, vendors, and employees; doing the right thing by them is what we are all about! We feel honored to be in this business and to serve our customers every day.
Van Bortel Team
The Team is dedicated to serving customers and helping you sell your Cessna! These talented and experienced folks are always professional and friendly, and ready to carry out the promise of Van Bortel Aircraft's Purchase Protection Plan.
Our History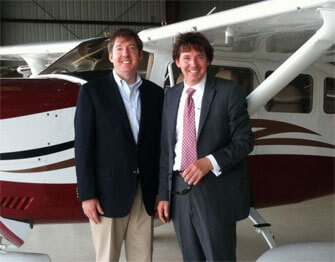 Howard G. Van Bortel founded Van Bortel Aircraft in 1985, as a privately owned and operated company. Howard is an aircraft owner, pilot, and entrepreneur with more than 35 years of experience in the general aviation industry. Howard learned to fly in a Cessna 150 on a grass strip in Upstate New York in 1975 and quickly became passionate about flying and aviation. That passion fueled launching Van Bortel Aircraft with $1,000 in the bank, and running it on a card table in his sister's living room. While never compromising principles, he always provides customers with the absolute best Cessna aircraft and cares for customers like no one in this world. Howard G. Van Bortel turned a $1,000 investment into the world's most recognized, trusted, and respected Cessna dealer.
In 1987, Van Bortel Aircraft moved to the Monroe County Airport in Rochester, New York, and began specializing in Cessna 172s. In 1989, the operation moved to Arlington, Texas, with more than 50 Cessna Skyhawks in inventory. In 1992, Air Power, Inc. was established to sell, service, and distribute factory engines and parts at wholesale prices.
By 1997, Van Bortel Aircraft's service center had become world-renowned for its quality workmanship on Cessna Aircraft, and the Cessna Aircraft Company honored Van Bortel Aircraft with a Cessna PropJet Service Center designation—one of only 10 in the United States!